Weddings at The Lewisburg Hotel
For a wedding reception, rehearsal dinner, bridal shower, or even your bachelor or bachelorette party, the Lewisburg Hotel should be your destination of choice. We have hosted hundreds of weddings and are experts at creating the perfect ambiance for your special event. We offer the best in service, food and accommodations for all of your wedding needs. Our beautiful Diamond Ballroom and Conference Center has five spacious rooms that can accommodate up to 300 guests or be arranged to seat just 20 for more intimate occasions. Trust our professional staff to assist you in planning the perfect memorable event in a refined atmosphere that will make you proud.
And don't forget to ask about our discounts for rehearsal dinners at any one of our two locations: Mifflinburg Hotel & Scarlet D Tavern and the Lewisburg Hotel.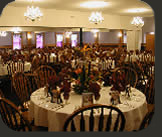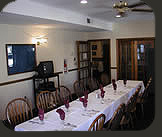 Book your Wedding Reception Today!!!
Call and make your appointments to see our Diamond Ballroom (seating up to 300), Governor's Room (seating up to 50), Revere Room (seating up to 25) or Lounge (seating up to 30).
Let us Help you plan your wedding of your dreams.
Wedding Menu Selections
Al À Carte
*(Minimum of 4 dozen each, Priced per Person)
Meatballs (3ct – BBQ, Swedish, Sweet-n-Sour)
Vegetarian Spring Rolls
Boursin Mushrooms
Crab Stuffed Mushrooms
Pigs in a Blanket
Bacon Wrapped Shrimp
Bacon Wrapped Scallops
Mini Crab Cakes
Chicken Satay Skewers
Smoked Chicken on Polenta
Spanakopita
Smoked Salmon and Dill
Peppered Yellow Fin Tuna
Beef Carpaccio
Roast Beef and Horseradish
Turkey Pin Wheel
Smoked Chicken and Gouda
Marinate Mozzeralla & Roma Tomato
Brie and Apricot
Gorgonzola and Olive Tapenade
Devilled Egg
Wasabi Devilled Egg
Bruschetta
Hummus on Pita Bread
Platters & Stations
* Priced per person/Minimum of 25 people
Vegetable Crudite
Fresh Fruits
Assorted Cheeses
Assorted Deli Meats
Antipasto
Smoked Salmon
Shrimp Cocktail
Bruschetta
Bruschetta with Olivine Mozzarella
Spinach Dip
Crab Dip
Beef Jerky Dip
Chicken Salad
Red Skin Potato Salad
Broccoli & Cauliflower Salad
Italian Pasta Salad
Assorted Finger Sandwiches
Assorted Mini Desserts
Combo Crudite:
Vegetables, Fruit and Cheese
Breads and Spreads:
Assorted Dips
Combo Seafood Cocktail:
Shrimp, Crab, Smoked Salmon
Bavarian:
Smoked and Cured Meats and Cheeses
Baked Brie Encroute with Berry Sauce
Homemade Soup Station
Assorted Desserts
All entrees are served and include: dinner rolls, & iced tea.
Prices do not include tax & gratuity.
Chicken Cordon Bleu
Chicken Parmigan
Chicken Roulade: Broccoli & Cheddar
Chicken Roulade: Asparagus & Prosciutto
Chicken Roulade: Crab & Shrimp
Chicken Marsala
Chicken Breast with Sauce
Chicken Oscar
Beef Tenderloin Imperial
Beef Tenderloin with Sautéed
Mushrooms & Onions
Prime Rib Sliced & Rolled with Julienne Vegetables
Sirloin topped with Gorgonzola & Prosciutto
Cajun Blackened Salmon
Pepper Encrusted Tuna
Lemon Scented Haddock
Jamaican Jerk Spiced Mahi Mahi
Margarita Marinated Swordfish
Mango Pork Tenderloin Skewers
Tangy Citrus Shrimp Skewers
Steak & Bell Pepper Skewers
Surf & Turf Skewers
Baked Ziti
Vegetable Lasagna
Pasta with Assorted Vegetables
Spinach & Lentil Puff Pastry
We can customize any banquet to better accommodate your needs.
With many suggestions, please give us your thoughts.
Filet Mignon 6oz or 8oz
Whole Roasted Filet 6oz (served Mid Rare)
Prime Rib 12oz or 16oz
New York Strip 12oz or 16oz
Sirloin 6oz or 8oz
Black Diamond 8oz
Rib Eye 12oz or 16 oz
Lamb Rack 14oz
Duck Breast 6oz
Duck Breast Smoked
Chicken Breast 6oz, 8oz, or 12oz
Pork Tenderloin 8oz
Pork Chop 12oz
Smoked Ham Sliced 12oz
Turkey Sliced 12oz
Atlantic Salmon 8oz
Sockeye Salmon 8oz
Yellow Fin Tuna 8oz
Swordfish 8oz
Dry Sea Scallops 8oz
Jumbo Shrimp 8oz
Jumbo Lump Crab 8oz
Crabcakes (2) 10oz
Haddock 8oz
Mahi Mahi 8oz
Lobster Tail 6oz or 8oz
Baked Potato
Yukon Gold Mashed Potato
Garlic Herb Mashed Potato
Red Skin Smashed Potato with Dill Butter
Roasted Herbed Red Potato
Saffron Rice
Coconut Rice
Long Grain & Wild Rice Blend
Linguini
Fettuccini
Mac & Cheese
Vegetable Medley
Green String Beans
Baby Carrots
Broccolini
Asparagus
Cauliflower
Broccoli
Crab Imperial Sauce
Red Wine Demi Glace
Blue Cheese Demi Glace
Mushroom Marsala Sauce
Beurre Blanc
Lemon Caper Dill Sauce
Sweet-n-Sour Sauce
Szechwan Sauce
Whiskey Butter Sauce
Balsamic Vinegar Glaze
Piccata Sauce
Open Bar, Cash Bar, Limited Bar
All of these items may include small amounts of nuts or nut oil.
All food and beverages must be purchased through the Hotel.
From the limousine to the disc jockey, we can expertly assist you with your planning. Please ask our event coordinator if you would like a helping hand for your big day. Call 570-523-7800 to arrange an appointment.
Let our warm and friendly staff make your experience a memory for a lifetime!
Information on our Dining Facilities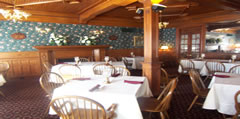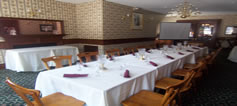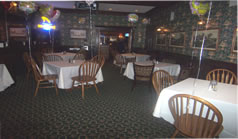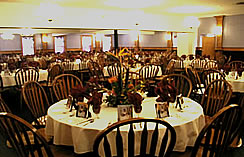 2nd floor is accessible by elevator or stairs.
Dinner prices do not include 18% gratuity or 6% sales tax.
A guaranteed count of guest is required 14 days prior to your banquet.
Customer is to be billed the total amount of guaranteed count.
Open bar by drink for 50 or less people only.
A $600 Non-Refundable room charge is required immediately upon banquet reservation. This pertains to the Diamond Ball Room..
Maximum of 6 hours for room rental. Not to exceed 11 PM.
Total payment is due the day before your banquet unless prior arrangements are made with the event coordinator.
We can customize any banquet to better accommodate your needs.
Wedding Menus
Hors D'oeuvres
Entrees Ideas
Land & Sea
Sides & Sauces
Beverages
Event Packages!!!
The Lewisburg Hotel has assembled a few of our most popular event selections and combined them into three unique, complete packages!
These packages are:
Ultimate Celebration
Dream Celebration
Traditional Celebration
These packages offer: appetizers, rolls/salad, entrees, bar service or no bar service, etc.
If you are interested in finding out more about any of these three great combinations for your event, please click here:
Information Request
We accept: