The Lewisburg Hotel Dining Experience
Our primary dining facility, the Governor's Room, offers a comfortable Victorian atmosphere for the appreciation of guests both formal and informal. In an effort to preserve the pristine quality of that era, we've designed an intimate setting which compliments a variety of our entrees and wine selections: entrees from around the world, traditional favorites, vegetarian selections and seafood delights. Serving lunch and dinner, we invite you to enjoy our professionally trained chef's specialties any time of the day.
After a dinner prepared to perfection, remember to visit the beautifully relaxed setting of our Cameron Bar and Lounge. We've taken special care in selecting over twenty varieties of domestic and imported beers, including twenty drafts on tap and a selection of bottled beers.
Our wine list includes the finest Chardonnays, Merlots and Cabernets available in the area.
The Cameron's impressive solid oak bar is accented with brass fixtures, custom-made etched mirrors and local artists' paintings. Don't miss the opportunity to join us for some after-dinner relaxation that we've created especially for our guests.
HOURS
Monday/Tuesday CLOSED
Wednesday – Saturday  12-10pm
Sunday 12-8pm 
Kitchen closes an Hour before Closing.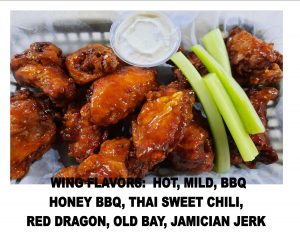 Above is the menu that we will be serving. Please be patient with our staff at this time. We ask that you follow the CDC and the PLCB guidelines. Thank you, Hotel Staff
Dinner/ Bistro Hours: Wednesday – Saturday 12-10pm, Sunday 12-8pm
Kitchen Closes an Hour before Closing
    
FOR DINE IN AND TAKEOUT.
APPETIZERS
MOZZARELLA STICKS $7.99/$10.99
SPINACH DIP: $13.99
CHICKEN & LEMON GRASS DUMPLINGS: $10.99
WINGS: 1/2 DOZEN $7.99 DOZEN $14.99
SOUPS & SALADS
CRAB BISQUE: $7.99/$11.99
ONION SOUP: $8.99
HOTEL GARDEN: Roma Tomato, White Onion, Grated Carrot—-$8.99 with grilled chicken $12.99
CAESAR:  Romaine, Crostini, Parmesan—$10.99 with grilled chicken $14.99
STARTER SALAD: $5.99                                        SIDE CAESAR $6.99
PLATES/BASKETS
CHICKEN FINGER BASKET: with house cut fries $11.99
SHRIMP BASKET: with house cut fries $12.99
CHICKEN QUESADILLA: Ancho chili-rubbed, cheddar jack cheese, peppers & onions. Folded in a tortilla with salsa & sour cream $12.99
FISH & CHIPS: with house cut fries & coleslaw & remoulade $13.99
CARIBBEAN CHICKEN CURRY: Chicken & assorted vegetables sauteed & tossed in a mild rich curry sauce served with Jasmine rice $14.99
BRAISED TURKEY & VEGETABLE POT PIE: Tender white & dark meat cooked with vegetables and pasta in a rich cream, herb and white wine sauce and served with house cut fries $13.99
LEWISBURGER: Char-grilled Angus beef patty topped with grilled cremini mushrooms, caramelized sweet onions and topped with choice of cheese, lettuce and tomato served on a toasted Kaiser roll $13.99
REUBEN: Classic reuben sandwich stacked high with corned beef, sauerkraut, Swiss cheese, 1000 Island dressing on toasted rye $12.99
GYRO: A blend of lamb and beef served on a pita topped with onion, tomato and shredded lettuce. Finished with a spicy feta Tzatziki $12.99
SMOKED CHICKEN WRAP: A hickory smoked chicken breast diced and tossed with spring mix, walnuts, apples, sweet onion, bacon and crumbled bleu cheese in a honey apple walnut dressing wrapped in a tomato basil tortilla $12.99
MEATLOAF: Premium homemade ground chuck meatloaf served with garlic whipped potatoes, sauteed carrots, and gravy $14.99
SANDWICHES SERVED WITH CHOICE OF HOUSE CUT FRIES OR SWEET POTATO FRIES
ENTREES
PLEASE SEE PICTURES ABOVE FOR ENTREES AS THEY ARE SUBJECT TO CHANGE.
ALL ENTREES SERVED WITH STARTER SALAD AND WARM BREAD
 LAMB: 16 oz Herb encrusted New Zealand rack of lamb served over Garlic dill roasted potatoes with Harivot Verts & finished with a Mint Demi Glace    $29.99
CHILEAN SEA BASS: 8oz Fillet Thai Glazed over five spiced rice with broccoli  $28.99
RIBEYE: 14 oz Choice Ribeye cooked to order topped with Hickory BBQ onions & melted Parmesan served wit Yukon Gold mash potatoes and green string beans  $29.99
SALMON: 8oz Atlantic Salmon Fillet Cajun blackened with lemon caper sauce served over saffron rice with hericot verts  $26.99
PORK OSSO BUCCO: 20oz Bone in Pork Shank drizzled with Mandarin Au Jus served over Yukon Gold mashed potatoes & broccoli   $28.99
PETITE TENDERLOIN: 8oz Black Angus cooked to order presented over Wasabi whipped potatoes with sauteed broccoli & finished with a Sweet Teriyaki sauce   $29.99
___________________________________________________________________________________________
Planning an event this year? Give us a call.
We will help make your event a memorable one from start to finish. Let our staff take the worry out of organizing and planning your birthday celebration, anniversary, wedding reception or other event. We will be happy to cater your off-premise event, or hold your event here in our Diamond Ballroom. The Lewisburg Hotel can accommodate groups from 50-300 people in one of our dinning rooms.
We accept:

If you would like more information, please click:
Information Request